---
News
The Foundation offers special thanks to Anne Sergeant, who has resigned from the Board of Directors after serving for considerably longer than she originally expected to. As of the beginning of 2010, Anne is replaced by Jacob D. Howley, Esq.
==================================================================
Just after the beginning of May, 2006, we had our instruments retuned. We would have waited another year, but we have been asked to lend the gamelan for a Wayang Kulit performance by Ki Purbo Asmoro at the Freer Gallery on July 6th, 2006, and it was clear that this was a good time for retuning. Mas Widiyanto was, fortunately, available, and he did a beautiful job of readjusting things.
If you want to get a sense of what our tuning was like before the retuning, try this page of examples. We hope to post a post-tuning examples page soon.
We are currently highlighting the decorations by adding a black background to the decorated areas, as suggested by Mas Widiyanto. Here are a saron that has not been altered yet, and a peking that has:
Here is a detail of one of our kendhang: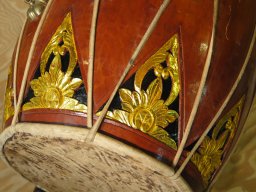 Here is a gambang, partly done:
(I must apologize for the color rendering of those last two. The camera's balance was set incorrectly.)

---
The Raras-Arum Foundation is a 501(c)(3) private foundation, registered with the Internal Revenue Service.
---
Email, Jon: a@b.com, where you can replace the a with my first name (note, only 3 letters) and the b with joss.
Phone, Jon: +1 240 604 4495.
Last modified: Tue Apr 17 15:34:02 EDT 2007